Living on the Pacific Ocean comes with some problems. We sit on the
Ring of Fire
, which means earthquakes and volcanic eruptions are a pretty real and constant threat. Here in the Pacific Northwest, we've been super lucky thus far - the last volcano that's blown it's top was St. Helens in 1980. The largest earthquake I've felt since I've lived here was the Seattle 6.8 in 2001 (I remember sitting in school and hearing that one rolling in before it even hit us). Besides those two big blunders, we've been lucky not to be hit with a large natural disaster around a big city in a while. I could not imagine what would happen if Vancouver was in the same situation that the Tōhoku region of Japan is in right now.
Because we sit in the same Pacific Rim danger zone as Japan, a lot of us here in BC feel connected to the disaster. Sure, the
province has practiced
what to do in an emergency situation, but that doesn't mean we're ready. Surviving a major earthquake is hard - surviving the aftermath is downright life-altering. What really comforts me is that, no matter where the disaster happens, the rest of the world always go out of their way to help. The Canadian Red Cross collected $6 million dollars from citizens so far for Japanese relief aid - and that doesn't include the millions that have been given by private donations. We've donated, but it doesn't seem enough for our Pacific Rim brethren. This is why C&C decided to join the
Online Bake Sale
for Japan set up by wonderful blog,
The Tomato Tart.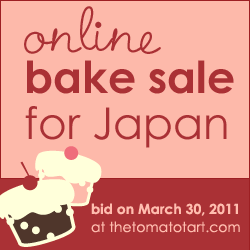 So far, almost 90 online bakers and blogs have stepped up to bake something extra special for March 30th. On that day, you can have the chance to bid on all these delectable delights. Finally - here's your chance to hold real life sweets from your favourite blog and devour them whole! The best part is that the funds raised during this bake sale will be going to
Second Harvest Japan
- which works on the ground, delivering food and supplies right to the places and people who need it the most. Visit
The Tomato Tart
on March 30th to bid!
Now's the time I need to sell our little auction item that will be on the block:
Though we're a bakery that usually concerns itself with cakes and cupcakes (we toss in the odd cookie every now and again), we rarely post about our chocolatiering adventures. Now is the chance for you to get your hands on some extra special C&C truffles.
The white delight you see is a white chocolate matcha truffle. The earthy, yet sweet, green tea flavour really loves to melt in you mouth. Absolute heaven. Of course, we've got to provide you with a bit of danger to go along with it - that's where the dark chocolate wasabi truffle rears it's delicious head. Bite into this baby and you'll get hit with that nose-clearing spice that is oh so addictive. But, don't worry, the smooth dark chocolate will flow over the wasabi destruction and create a deep, dark finish to it all. A dozen of this ying and yang duo will only be available through
The Online Bake Sale for Japan on March 30th
!
Make sure you check it out! (And buy something tasty!)